Welcome to Goodrich United Methodist Church!
Summer Worship Times: From May 21st through September 3rd we will have one combined service on Sundays at 10:00am.

Nursery is available for children ages 5 and under, People from both services will worship together as one church family so please take the opportunity to meet new people and make new friends!
Welcome the New Pastor
On July 9th, come celebrate Pastor Joel's first Sunday as we welcome him to our church family during worship and with a church family picnic afterward. There will be hamburgers, hot dogs and cheesy potatoes prepared by the UMM. There is a sign up board in the FLC entryway for other foods to bring. Enjoy a wonderful meal and throw a ball or two at your favorite dunk tank participant.
The votes have been tallied and we now have the 9 finalists to vote into the dunk tank. Vote by your donation that will benefit the ministries of the church. You can vote until June 26th.
United Methodist Women Planning Meeting
All women are invited to come together for treats and to share ideas so that we may serve you with programs that will provide fun fellowship, mission work, and spiritual growth. Room 215 on Aug. 3, 10-12. Pass ideas along to Joy Rossman 810-636-2791 if you are unable to attend.
Memorial Garden Pavers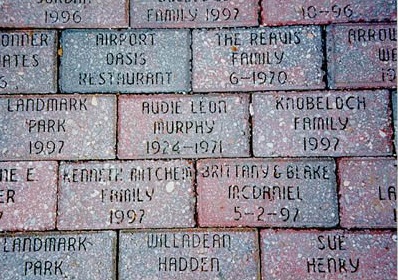 Visit our Memorial Garden to walk, think of God and read the memorial pavers and markers. It is a place of remembrance and you may purchase a paver in memory or honor of someone. Order forms are available at the welcome center. Complete the form and return it to the church office with your payment. Please write "memorial paver" in the memo section if paying by check. All forms must be in by Aug. 6. Any questions call Joy Rossman 810-636-2791
Mission University for All Women
The Crossroads District sponsors a time of learning about social issues affecting our communities and country, missions in action, and spiritual growth at Lake Huron Retreat Center. This is open to all women who desire to grow in the spirit of Jesus Christ to make a difference in the lives of others near at home and in far away missions.
The Retreat Center is like going to camp with shared rooms, meals, and worship as you learn new things. You can stay one night, Aug. 18 ($120); two nights, Aug. 17-19 ($195 with meals); or just one day, Aug 17 ($35 with lunch). You may also sign up for mission work in Port Huron on Aug, 18. Registration forms can be found on the UMW bulletin board in the fellowship area. Forms must be mailed in by Aug 6. Scholarships are available.
The sessions this year will be Climate Justice by Nichea VerVeer/Guy, Living As A Covenant Community by Rev. Mary McInnes and Missionary Conferences by Charissa Shawcross.
Any questions may be directed to Joy Rossman 810-636-2791
Join a bus full of wonderful women on Thur. Sept. 7 to experience seeing mission in action and being part of it. The cost is usually around $40 for the day. We will carpool to the pickup location from our church. Look for details and registration info in the church bulletin.

Contact Us:
Phone: 810.636.2444
Office Hours: 9-2 M-Th
Rent our Facilities?
.
Check us out on Facebook!